AxessPointe Community Health Centers names new CEO
August 18, 2016 (Akron, Ohio):   Christopher J. Richardson, M.Ed., LICDC-CS, LPC has been appointed new Chief Executive Officer of AxessPointe Community Health Center. Prior to his new position Mr. Richardson served as COO at AxessPointe beginning in August of 2015. Before joining the AxessPointe staff, he served on the Board of Directors for three years.  Mr. Richardson succeeds Dr. Kristine Drummond, who retired last month, after having served at AxessPointe for the past eight years.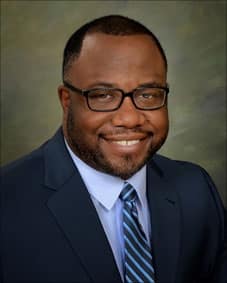 Dr. Jay Williamson, president of the board of directors for AxessPointe, looks forward to Mr. Richardson's leadership, noting that he "has been transitioning to his new role for the past several months, and was a fabulous COO." For Mr. Richardson, this is an opportunity to apply his management and leadership skills, as well as his relevant clinical background at a new level.  He also notes that "working alongside a great network of community partners, and continuing in a leadership position that allows me to never lose focus of the mission" are of the utmost importance.
As a strong advocate for care of the underserved population, Mr. Richardson's vision is to ensure that every resident of both Summit County and Portage County has access to affordable, quality healthcare. "AxessPointe has grown exponentially over the last several years and that momentum will definitely continue," states Richardson. "We are in the planning stages of developing a health center in the North Hill neighborhood of Akron that will offer a variety of services identified as high need in that zip code. Momentum is also picking up in anticipation of the expansion of our Arlington Plaza site. This expansion is expected to be completed later next year, and includes the addition of services, as well as facility improvements." And he notes that's "just the short list!  All of our efforts are directed towards striving for and achieving excellence in service delivery at all AxessPointe sites."
Mr. Richardson previously served as Director of the Oriana House, Inc. ADM Crisis Center for eight years, where he facilitated large-scale collaborations for programs addressing barriers to substance abuse treatment and recovery. Additional career experience includes leadership roles in the behavioral health, vocational rehabilitation, managed care and addiction services fields.  He attended Kent State University where he received his Bachelor of Arts in Criminal Justice and a Master of Education with a specialization in Rehabilitation Counseling. Mr. Richardson is a licensed Independent Chemical Dependency Counselor with Clinical Supervisory designation, and a licensed professional counselor, and currently serves as an Adjunct Professor at Kent State University, where he teaches master's level coursework.
Mr. Richardson is also an active and passionate volunteer and community leader. He has served on numerous boards in both Summit and Portage Counties. Mr. Richardson currently serves on Kent State's Rehabilitation Counseling Board and its Learning Development & Educational Sciences Department Advisory Board. He has participated in numerous leadership programs including United Way's Project Blueprint (now Diversity on Board), the Summit County Mental Health Leadership Academy and Akron Torchbearers. In June, 2013 Mr. Richardson was a recipient of the 30 for the Future Award by the Greater Akron Chamber.
AxessPointe Community Health Center is a federally qualified health center (or FQHC, commonly called a community health center) with five current sites in Northeast Ohio, including three in Akron, one in Kent and one in Barberton. A FQHC is a not-for-profit corporation that delivers primary medical, dental and preventive health services in medically underserved areas. AxessPointe also provides behavioral health and OB-GYN services. Originally named Akron Community Health Resources, Inc., the first center was located in Akron,  and received funding in 1994 from the Bureau of Primary Health Care to establish the first federally qualified health center in Summit County. AxessPointe now employs more than 100 care providers at its four locations.
For more information, contact Christopher Richardson at 330-785-2055 or crichardson@axesspointe.org.
Visit our website to learn more at axesspointe.org.
FOR IMMEDIATE RELEASE
Contact:  Stephanie Berry
Title: Marketing Director
Phone:  330.564.8650 ext. 1481
Email:  sberry@axesspointe.org